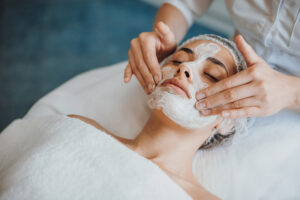 Amber's Beauty School is proud to announce the addition of a new Esthetics Program, beginning in June 2023. Our program is designed to provide students with the necessary knowledge and skills to succeed in the beauty industry, including in-depth instruction on product and ingredient knowledge, skincare, makeup, body treatments, waxing, and advanced modalities.
Upon completion of the program, graduates will be equipped with the skills and abilities to project professionalism and visual poise, communicate effectively with colleagues, supervisors, and clients, perform basic manipulative and logical skills related to skincare and makeup, make informed decisions and procedures based on academic learning and technical information. To ensure continued success in their careers, graduates will have access to ongoing training in the latest skills, trends, and methods for career development in Esthetics and related fields.
The part-time classes will be held on Mondays, Tuesdays, and Wednesdays from 8 am to 5 pm, totaling 700 hours or 26 weeks of instruction. We offer five start dates to choose from: June 4, 2023, January 8, 2024, March 11, 2024, June 10, 2024, and September 9, 2024. Interested applicants can indicate "esthetics" on the request information form available on our Admissions page.
At Amber's Beauty School, we have been providing a unique and comprehensive educational experience for over 87 years. As a family-owned institution, we remain committed to delivering exceptional salon services and professional training to our students. We also offer programs in Cosmetology, Barbering, and Nail Technology.
To learn more about our Esthetics Program and to apply, please call 765-284-2205. We look forward to helping our students achieve their goals and succeed in the beauty industry.
Brian Shrieve, President
brian@ambersbeautyschool.com

Not ready yet? Explore Our Website »