Today, our students were lucky enough to spend some time with Regional Master Trainer from Davines, Vicki O'Connor. Specializing in hair color and hair color training, Vicki spent the day introducing our new color line, Davines Mask Colour, to our students.
Mask Colour is a high-end, permanent hair color line made by Davines with milk protein, which moisturizes, strengthens, and creates fantastic shine in hair. Based in Italy, Davines and prides themselves on the sustainability of their products and the ecological footprint their products leave. Mask Colour is made from about 70% natural and organic ingredients and uses recyclable and compostable packaging.
Our students are having a blast using this new product, and Vicki is just as excited to work with them. She came to Amber's with a mission to create great color professionals using a positive and consistent approach. Today, she taught the importance of establishing a connection with the brand and how to utilize the product properly.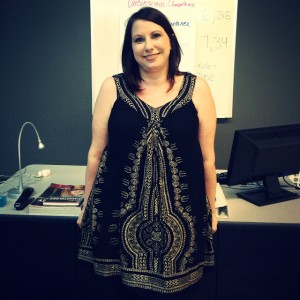 Vicki loves that she is able to work with owners Brian and Brook is looking forward to learning and growing with the students at Amber's.
[divider type="border" toplink="no"]