This week we invited stylists from Pro Soto Beauty in Indianapolis to Amber's to give our students some extra insight into the world of cosmetics. Brenda, the founder of Pro Soto has worked with presidents, TV personalities, music videos like John Mellancamp and Joan Rivers and Sports Center Monday Night Football doing makeup.
Brenda started her business based on the concept of selling versus teaching. She realized that people don't just want to buy the make-up products, they want to learn how to use them.
In addition to that, she created her own product line that offers a wide variety of styles, shades and opportunities.
Brenda began by having our students fill out question cards and saying there is no right or wrong way or order to do makeup – it will all depend on what you are trying to accomplish with the makeup look.
She began talking about foundation. Color choice is the most important part; it should match the skin tone exactly but you'll need one or two shades lighter to do highlighting and one or two shades darker to do the contouring.  Brenda cautioned, "foundation should absolutely disappear on the skin."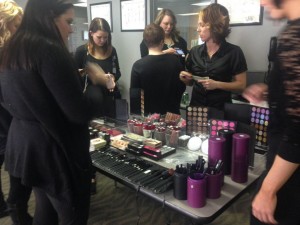 Many of our students wanted to ask her questions about eye makeup. There are three colors typically used when doing the eye shadow. No matter what look you want, there should be a base, a lighter and a darker color.
Our students asked for advice on winged eyeliner and Brenda suggested and demonstrated a tape trick that can simply be found on YouTube.
To achieve the look you want, one of the most important things is using the right tools. Products aren't always the best just because they're the priciest. Always test the products before you buy them. Get a color and a texture that you need, everything you own should not and will not be from the same brand.
Different products are going to work differently for everyone.