The leaves are changing, people are changing their hair and do you know what else is changing? The trend of always having a summer wedding! More and more couples are choosing to tie the knot in the fall. Why? A number of reasons: the weather is more predictable, autumn provides a beautiful backdrop for pictures and dresses and hairstyles can be more elaborate because the temperature will allow the bride to stay cool. Gone are the days where hair had to be piled high on the bride's head for her to stay cool and comfortable. Read on to hear about some of this fall's most enticing "down-do's" for weddings.
Because of the cooler temperature, brides can be more comfortable leaving their hair down for their wedding day.  With a slight tease on top and some fall flowers to dress it up, this down-do is perfect for an autumn wedding.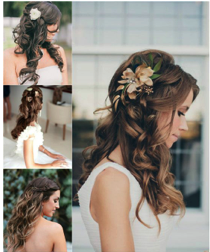 Staying with the trending flowery look, half-up hairstyles make it easier for the bride to keep hair back during the ceremony, pictures and reception. A braid is an elegant touch to pull hair away from the bride's face.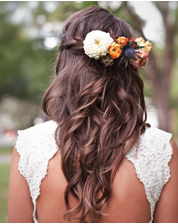 Finally, the chic and popular flower headband gets and upgrade as the temperature downgrades.  If you want a rustic meets mod feel for your wedding, a headband like this one is the perfect way to go. It works well with all lengths of hair from pixie cuts to long locks.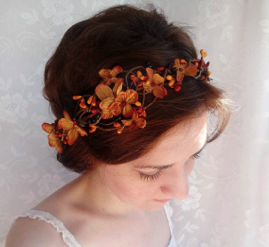 If you're putting the final touches on your fall wedding, make sure you consider Amber's for your day-of beauty needs.