Say hello to our newest students at Amber's: Elizabeth Hurst of Muncie,  Lacey Little of Summitville, Liz Bodnar of South Bend and Maddi Hatfield of Muncie.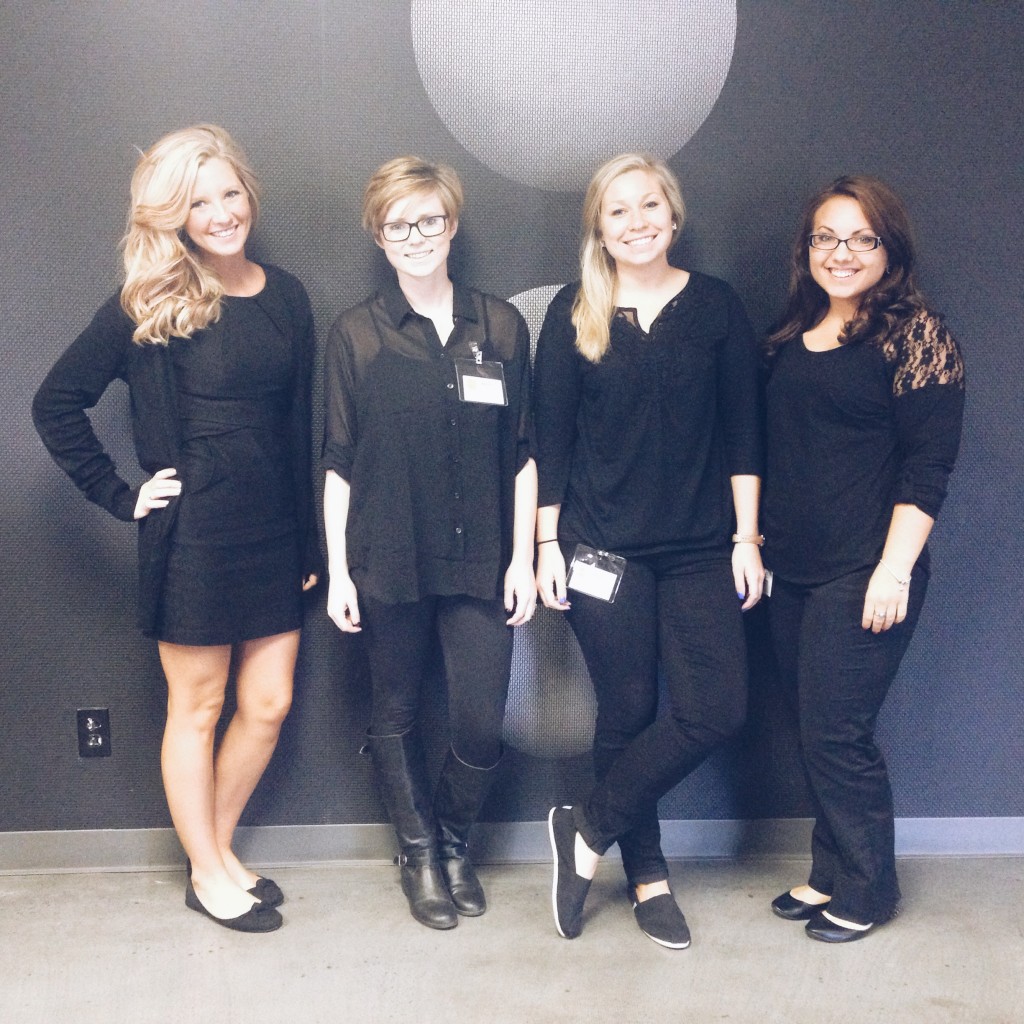 We had the chance to talk to our newest students yesterday while they were in between classes.   The four newest students only started on Tuesday, but they hit the ground running.
What have you learned so far?
Our new students have learned about scalp treatments, shampooing and round brushing. What is round brushing you may ask? It's the practice of using the brush with bristles all around it to dry and style all in one. This type of drying adds volume to hair as well. 
What are you looking forward to here at Amber's?
EH: I'm looking forward to learning about spa treatments, especially facials.
LL: I can't wait to learn more about coloring hair.
LB: I'm looking forward to learning about coloring hair, too. I also can't wait to learn how to cut.
MH: Ya, I want to learn about coloring and cutting, too.
What lead you to this profession?
EH: I've always wanted to do it. I've always liked doing my friends' hair and when I was little I would always play with  my Barbies by doing their hair.
LL: I always did my friends' hair before games and before proms and this was just something that I knew I would be doing.
LB: I've seen all the high fashion in magazines and I want to be able to bring that to other people as well.
HM: My mom is a hairstylist and I learned a lot from her. I grew up with a hair salon in my house so I've always been around it. I've taken a couple of classes and learned some from her, but studying here has been my favorite way to learn.
How will studying at Amber's help you in the future?
EH: I'm excited to see the people I know come in and start to let me do their hair. I really love the opportunity to have the outside support. I've already had so many friends reach out to me to say good luck.
LL: I know that I'll be able to build a client list that will follow me once I've graduated.
LB: I know that I'll be able to see progress from the beginning to the end and I know I'll be able to incorporate that into my career.
MD: I'll learn all the different techniques and build up a client base to start a career because I've seen it done for so long, I know this will help me.
Do you have any advice for anyone thinking of enrolling?
EH: If you like doing hair, I would highly recommend it.
LL: There are so many opportunities after you enroll here that no matter where you go after, you will be able to specialize in something.
MD: Even if you're not sure where the career could take you, I would encourage you to enroll to have the experience.
Our newest students are excited to partner with local photographer Amanda Kishel and local models who will be taking in part in the Photo Shoot and Style Show in two weeks where they will showcase fall's latest fashions. Come back for more updates and to see their progress.