Product manufacturer, two-time NAHA award winner and salon owner of 22 years Bennie Pollard made the trip from Louisville to Muncie to speak to Amber's students on Tuesday about personal branding.
Bennie began speaking to our students about the competition as a stylist. Having a good personal brand can separate those who provide a haircut versus those who provide style.  Because of a positive personal brand, many of the stylists at his salon earn more than $100,000 per year.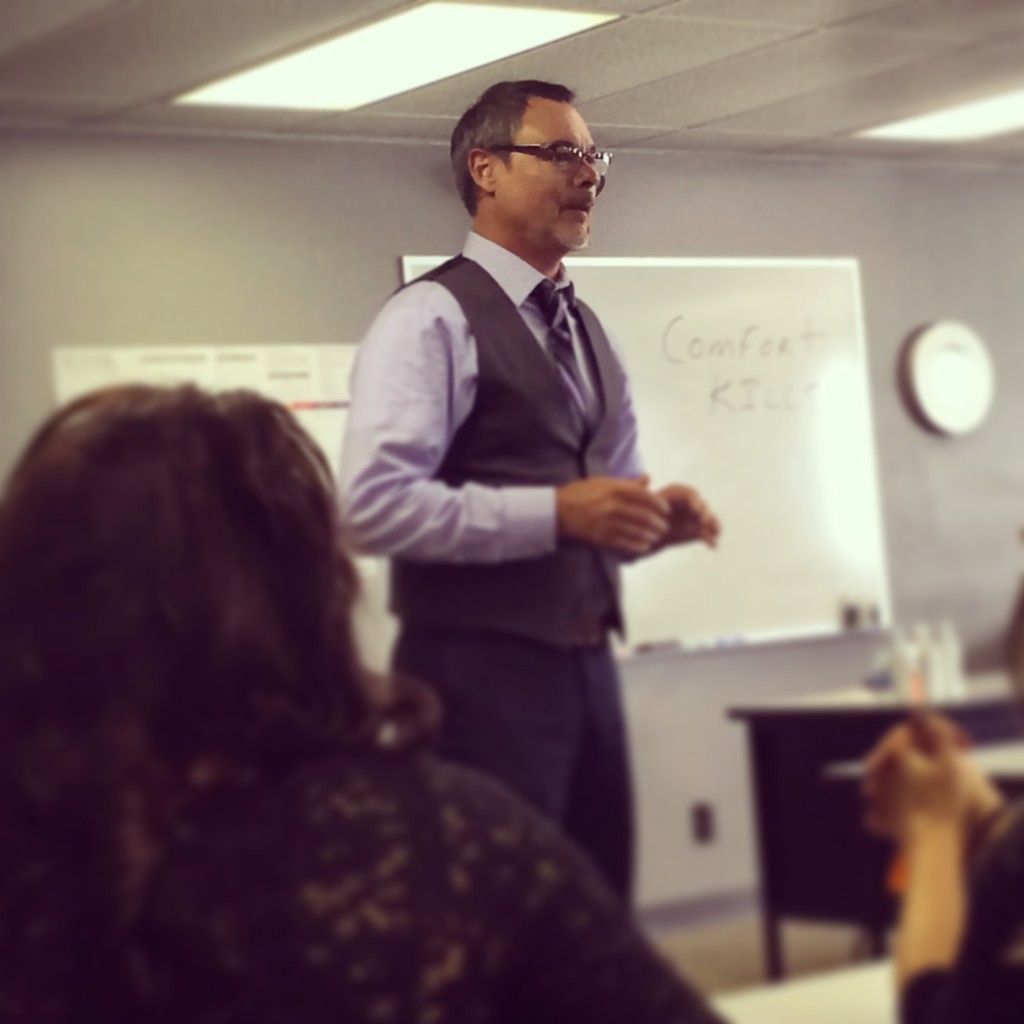 "No matter what, we start here."
Bennie taught our students the nine most important rules to follow as a stylist.
1. Eye contact builds trust. If your customer can't trust you, then you won't be able to create a relationship.
2. A simple smile puts your client at ease. Sometimes people sit in your chair with a tough decision ahead of them. Something as perfunctory as smiling can change an experience.
3. Handshakes can make or break a first impression. The age old lesson of having a firm handshake still holds merit in any industry.
4. Don't overlook yourself. You can't take care of others if you can't take care of yourself.
5. Be aware of your posture. You can tell your entire story through your posture.
6. Have a tasteful wardrobe. Bennie referenced Coco Chanel's mantra: "fashion is fleeting, style is forever." You want to be a magnet and attract clients who value style.
7. Dialogue and delivery is crucial. If your client can't understand you, they will brand you as unprofessional.
8. Time is nonrefundable. Value your own time as much as you value the time of your client. Your client inevitably wants you to take your time and do your job well. Conversely, they don't want to spend their entire afternoon getting a cut and color. Take the time you need to be successful but be efficient.
9. Above all, a positive attitude makes you the boss of your chair. You're in the business of self-esteem. A positive attitude and confidence goes a long way.

Boom Boom
Another benefit of having Bennie visit was to talk about his newest product line, Boom Boom. The new line has four products that that Bennie spent two years developing with a chemist to create the formula.
The products work for most hair types. A quarter pump of the volume whip and a quarter pump of the curl cream is "the perfect combination for any hair."
Amber's students are eager to start learning about the new Boom Boom products. Come in and find out which products would be suited for your hair type! Make an appointment by calling 765-284-2205.